Common Questions & Answers
Can I turn video off and conference without it?
Yes. You will still need to click allow on the 'Camera and Microphone Access' request that pops up after you click the white start button to begin the conference. This allows your microphone can be activated.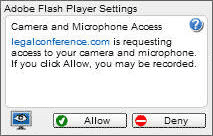 Once activated you can turn the camera off by clicking the Video Settings button on the bottom left.
Watch the Help Video:
Adjusting video and audio settings.

Contact Customer Support
Click on 'Live Help' to talk with us online (8:00am - 5:00pm, CST)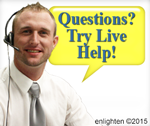 Or email us directly at: help@legalconference.com.
Please feel free to phone our offices between 8:00am - 5:00pm, CST at
1-800-529-5121.