Common Questions & Answers
What do I get with this service and what do I need to register?
What do I get with this conferencing service?
LegalConference.com was created by lawyers for the legal community. It was designed specifically to combine document review and video communication into one easy to use program with higher standards of security and confidentiality than what has been available in the marketplace. It was believed that too many web based services neglected the importance of confidentiality and security. Therefore, Legal Conference went through very strict development standards in order to solve the security aspects of document storage while maintaining a confidential communication platform between attorneys and their clients.
Communication Efficiency: LegalConference.com is unique in that it offers web based videoconferencing services which allow any web browser to access a video room for a conference. No software download is needed. Consequently, communication though the Internet can be done easily with anyone in the world without long distance charges.

Communication Security: LegalConference.com has become a leader in secure video conferencing through its multi-layered encryption for the video packets that are delivered through a single port. This ability to streamline the network traffic through a single port utilizes the same type of network traffic encryption as a typical financial institution. This allows for the video calls to be more secure and streamlined than the standard methods of videoconferencing.

Document Viewer: LegalConference.com is one of the few online conferencing systems that allows the participants to upload documents while converting the documents to a web friendly format. This allows any participant, regardless of the web browser used, to view selected documents without the need for any uploads of any third party software. By using the secure LegalConference.com system, anyone can participate and review the documents with the host while knowing that the conference and the documents are kept confidential.

Document Security: The LegalConference.com file storage system allows law firms to store documents securely in a protected offline environment so that the document can only be viewed by a special request through the proprietary software. This methodology is similar to a bank process that permits individuals to store items in a bank vault. Imagine going to a bank to withdraw money. The only time the money is accessed is when a bank teller goes to the vault to retrieve your money upon request. The document vault that Legal Conference uses works on the same principle. The LegalConference.com software access of documents from the vault is similar to a bank teller retrieving funds from a bank vault for a customer.

Client Security: Each client folder is stored separately and independently of any others. LegalConference.com was purposely built to permit a law firm to assign individual client folders for individual clients. There is no reusing of folders or meeting rooms. Once a law firm is finished with a client folder-meeting room, the entire folder/room can be archived and stored offline for years thereby allowing for later retrieval. This permits a law firm to treat each individual client file as a safety deposit box that remains inside a secure vault.

Customizable to a Law Firm: The unique advantage of LegalConference.com over other online storage services is that there is no set storage limit in terms of the individual client files that can be opened or access when using LegalConference. Each firm can expand its storage space, as needed. This flexibility allows a law firm to purchase individual client folders as the demand requires. It is just as if the attorney were to go to the office supply store to buy additional file folders for the firm clients. Individual client folders can be added as the law firm grows.

Client Tracking: With LegalConference.com, the attorney can turn client folders into online meeting rooms and keep track of meeting dates and hours spent in meetings with each client. This system allows for the additional advantage of keeping track of time and billing. LegalConference.com is designed to keep records of when a client accesses important files or information. This allows the law firm to track when a client visited and who is visiting the file. This eliminates the time wasted in attempting to hunt down the date of an email or if an email was even read. This tracking can be reviewed monthly or weekly by the attorney or a designated staff member.
What do I need to register?
Please note that only the party hosting the conference needs to register - guests to a conference (including lawyers from the same firm) log in with the invite provided by the administrator!
Our company has a 30 day money back guarantee at any time for any reason during the 30 day trial period.
Contact Information: Registration can be done quickly online. Here is a sample of our registration form that may also be found by following the menu link above:
Your display name is where you select how you want to be identified to clients and guests. For example, this may be your firm name, full name, or first name.
Please note: This display name will also be used with your address and phone number to list your business in our legal directories. You can make changes to this directory listing if desired.
The individual who will administer the account should register their first and last name. They will be considered the contact for the account.
Enter the email you will use to access and monitor the account. This email will become the user login.
Next choose a password for the account. Passwords must be a minimum of six characters. As with any password protected account, users should be careful if sharing a password, LegalConference™ does not recommend sharing passwords.
Next select the type of legal service you provide from the drop down box - this will expedite your firm's listing in our directories.
List your address and phone information as you would like them to be listed for your directory listing.
Don't forget to personalize your time zone.
Payment: After you click the submit button a pop up will request payment before you may continue. After reviewing the Terms and Conditions, click Accept to continue.
IMPORTANT: If the name, address and phone you submitted is different from your billing information, please update these items by clicking on Edit Address Information under the Billing Information box.
Please enter your credit card information and click on Complete Order.
Your Transaction Receipt will be the next screen. Please print a copy for your records before clicking the Continue button.
You will then be forwarded to your administration Home screen.
Your account is active and you may begin personalizing your folder!
Please note that only the party hosting the conference needs to register - guests to a conference (including lawyers from the same firm) log in with the information provided by the administrator!
A note about user accounts:
Many firms choose to register multiple accounts to provide each lawyer their own administrative access and privacy. When several lawyers choose to use a single account we recommend that they assign the account to one administrator such as the lead partner or a legal secretary. This administrator can then assign sub-administrator access to others within the firm as needed. These individuals must register for a free account and can then be added by the administrator to the paid account for free as well. The sub-administrators will have administrative access until the main administrator removes the access. To find out more see our help page, "How do I share administrative access with a colleague?"
Legal Conference recommends against sharing a generic email and password to be used by multiple lawyers for one account. Instead, we recommend that each person registers for a free account. The administrator for a paid account can then give them access by adding them as sub-administrators. In this way, each person can keep their login information private. LegalConference™ does not recommend sharing passwords among multiple users and will not be held responsible for any misuse.
Additional Help Videos:
How do I join a conference on LEGALCONFERENCE™?

Adjusting video and audio settings.

Increase the value of your website with a LEGALCONFERENCE™ Portal.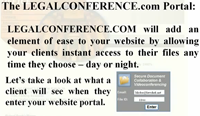 Video troubleshooting for Internet Explorer.

Video troubleshooting for FireFox.