Common Questions & Answers
How does LegalConference™ compare with similar services online?
Sometimes the best answers are provided by visual comparisons. Our chart below illustrates some of the differences between LegalConference™ and other top videoconferencing providers online.
Videoconferencing
LegalConference™
Mega Meeting
Go-To-Meeting
Skype
Video/ Audio Communication
Multi Platform, Supports All Operating systems
Secure Conversation in Conference Call
More than 2 Participants on a Video Call
Centralized Server for Multi-point calls
Webinar and Classroom Capability
Firewall N.A.T./Pass Through Technology
No Software to download
Eliminate Set Up Charges
Ambient User Suppression "Push to Talk"
Secure Server Document Sharing
Built In PDF Conversion for Cross platform OS
Date Started Video Conferencing
1999
2004
2004
2003
LegalConference™ offers a quick and easy format to conduct a clean online videoconference experience. No per user charges. No need to spend hours of training learning how to use the product. LegalConference™ was professionally designed by a company with over 10 years of videoconferencing experience making the layout intuitive for the average Internet user. For further information regarding our products and services, please call 800-529-5121 toll-free or e-mail info@enlightentech.net.
Skype and other web videoconferencing products have banner ads and pop up commercials during the videoconferences - LegalConference™ does not. In addition, most of the web videoconferencing services require everyone using the conference to fill out a personal information form, no privacy. LegalConference™ does not require everyone to disclose their information.
Contact Customer Support
Click on 'Live Help' to talk with us online (8:00am - 5:00pm, CST)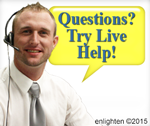 Or email us directly at: help@legalconference.com.
Please feel free to phone our offices between 8:00am - 5:00pm, CST at
1-800-529-5121.