Common Questions & Answers
How do I add a document portal on my website?
LegalConference™ offers several different templates for online portals from your website that allow clients to review documents and conference. Examples of the forms and their codes are listed below. Simply copy the HTML code and paste it within the code for your site where you want the portal to appear. You are welcome to change the color scheme if one of these options does not match the theme of your site. You are also welcome to save the image file to your site instead of mapping to our site.
Style
Code
Clear Box with Secure Client File Logo


Secure Client File

test

Clear Box with LegalConference Logo



Blue Box with Folder


Brown Box with Folder

Dark Green Box with Folder

Light Green Box with Folder

Maroon Box with Folder

Black Box with Folder

Blue Framed Box with Safe

White Framed Box with Folder

Grey Framed Box with Folder

Contact Customer Support
Click on 'Live Help' to talk with us online (8:00am - 5:00pm, CST)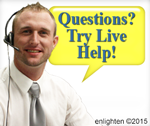 Or email us directly at: help@legalconference.com.
Please feel free to phone our offices between 8:00am - 5:00pm, CST at
1-800-529-5121.
Watch the Help Video:
Increase the value of your website with a LEGALCONFERENCE™ Portal.