Common Questions & Answers
Where do I log in?
Host / Account Administrator: To manage client folders, host a conference or work on documents, you can log in to your account by selecting Manage My Account or My Account (click here to go there now). Enter your email and account password to access documents and online conferencing.
Guest: Guests will log in using the link emailed by the conference host. Alternatively, they can also enter at the LegalConference.com homepage using the Folder ID or the Quick Pass provided by their host.
On the homepage type in your Folder ID (provided by your host) or Quick Pass and click the Enter button.
You will then be prompted for the password (also provided by your legal professional). Enter this password and click Submit.
Please note: Both the Folder ID and password are provided by your host via email. LegalConference™ will not give this information over the phone for security reasons. If you miss the email, your host can resend the invitation or provide you with the Folder ID and Password. Make certain to check your spam folders as the invitation may be sent there depending on your email settings.
Watch the Help Video:
How do I join a conference on LegalConference™?

Contact Customer Support
Click on 'Live Help' to talk with us online (8:00am - 5:00pm, CST)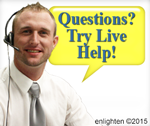 Or email us directly at: help@legalconference.com.
Please feel free to phone our offices between 8:00am - 5:00pm, CST at
1-800-529-5121.