Common Questions & Answers
What is my directory listing?
When you set up your account with LegalConference™ we include a listing in our legal directories. A customer service representative may contact you to see if there are any items you want changed for your directory listing. If we cannot reach you, the information you submitted for the online registration will be used to make your listing. This listing will appear on eight different sites:
Contact Customer Support
Click on 'Live Help' to talk with us online (8:00am - 5:00pm, CST)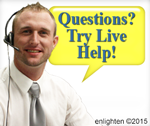 Or email us directly at: help@legalconference.com.
Please feel free to phone our offices between 8:00am - 5:00pm, CST at
1-800-529-5121.