Common Questions & Answers
Do I have to be a lawyer to use LegalConference™?
LegalConference™ is a service created for the legal community and, at this time, is focused on the needs of attorneys and their clientele. If a client, by all means ask your lawyer about utilizing our online document sharing and conferencing. Court reporters, judges, paralegals, process servers, expert witnesses, and other legal experts may also find our services useful. Additional professionals not directly working in law may find the tools on this site very useful and are welcome to sign up - just keep in mind that changes, updates, and new services are created with the legal profession in mind and we strive to make our service specific for these professionals. Other users who are looking for a more casual or personal use are encouraged to utilize our partner site privvi.com.
Contact Customer Support
Click on 'Live Help' to talk with us online (8:00am - 5:00pm, CST)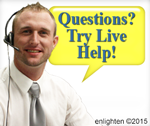 Or email us directly at: help@legalconference.com.
Please feel free to phone our offices between 8:00am - 5:00pm, CST at
1-800-529-5121.