Common Questions & Answers
How do I review recent activity for my account?
The account administrator and sub-administrators can review the history of account activity once logged in.
The most recent activity lists automatically on the right hand side of your Lobby screen. To see more details and a longer history of account activity click on the exclamation point.
By default, this history lists all folders that had activity in the last seven days with the most recent at the top.
This information can be sorted by date, name or type of activity for up to the past year.
Activities such as document uploads, edits, and views are noted with the document's name. Other activity such as conferences or invitations sent are also listed.
A printer friendly version of this report is also available by clicking the button at the top right of the menu.
Contact Customer Support
Click on 'Live Help' to talk with us online (8:00am - 5:00pm, CST)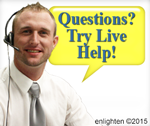 Or email us directly at: help@legalconference.com.
Please feel free to phone our offices between 8:00am - 5:00pm, CST at
1-800-529-5121.