Common Questions & Answers
What do I do if I forgot my password?
Your password may be retrieved on the Manage My Account or My Account page (click here to go there now).
First enter the account email in the Email textbox and click Enter.
Click on the Forgot Password? link under the Enter button.
Log in to your email account. You will need to click on the reset link Change Password in that email.
Follow the link to reset your password.
You will then be taken back to the My Account screen where you can then use the new password to access your account.
Contact Customer Support
Click on 'Live Help' to talk with us online (8:00am - 5:00pm, CST)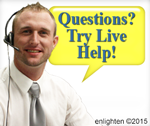 Or email us directly at: help@legalconference.com.
Please feel free to phone our offices between 8:00am - 5:00pm, CST at
1-800-529-5121.