Common Questions & Answers
Can I change the names of my folders?
Yes. The Folder Name is created when you add a new file. You may change this name at anytime from the administrator's Lobby screen.
Option 1
Mouseover to the folder you are changing and click on the Edit icon.




Type in the new Folder Name.
Click Save Changes.
Option2
If you already working in an open folder managing documents or conferencing, you can update the folder name at any time.


Click on the Settings tab at the right side of your screen.




Enter the new folder name under File Name.
Click on Save Changes.
Note: This description name is provided so you can organize your folders as needed. This is not the same as the Room ID used by guests to log in. The Room ID is created by our program and will be automatically generated when you add a new file. For example, a description name might be John Doe Deposition while the Room ID is a generated number and letter combination such as 001RM.
Contact Customer Support
Click on 'Live Help' to talk with us online (8:00am - 5:00pm, CST)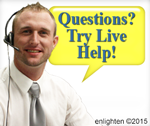 Or email us directly at: help@legalconference.com.
Please feel free to phone our offices between 8:00am - 5:00pm, CST at
1-800-529-5121.