Common Questions & Answers
What edits can I make to a document?
The document editor allows you to edit text documents in real-time with other users. Right click on the document and select Open or double click the document to open.

Once opened you have several editing options that are very similar to other text editing programs:
Points of Interest:
Document Options - These function similar to other text editing programs.

File - Use this to create a new document, save changes, or print.
Home - This provides the commonly used editing tools (those pictured above).
Insert - Insert page breaks, tables, hyperlinks, symbols, and more under this tab.
Page Layout - Set up the page layout adjusting items like orientation and margins.
View - Select how you want the page to appear while editing.

Edit Options - All of the tabs listed above will display the various editing options on this top bar.
Close Document - Click the X to close the document when finished. Make certain to save your changes first! Save your changes under the File tab.
Side Tabs - These tabs extend out when clicked to provide more options while conferencing.

Settings - This tab allows you to update the folder name and information, change the password, and set the video settings for the conference.
Attending - This tab shows you who is present in the conference.
Calendar - Quickly check your calendar for meetings and schedule future conference meetings by clicking on a specific date.
Meeting Notes - Take notes during the meeting for your future reference. These are saved and can be reviewed while in the room or the Lobby as needed.

Conferencing - Note the video has been minimized on the left in the image above but the video will stay active while editing documents unless minimized.
Contact Customer Support
Click on 'Live Help' to talk with us online (8:00am - 5:00pm, CST)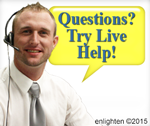 Or email us directly at: help@legalconference.com.
Please feel free to phone our offices between 8:00am - 5:00pm, CST at
1-800-529-5121.