Common Questions & Answers
What is the 'Document Vault'?
LegalConference™ is the only web-based software that safely stores documents in a secure offline vault. Many companies store documents in areas that are easily accessible online; these types of online storage facilities carry the potential for being hacked because of the methods they use to store documents. The LegalConference™ vault is unique in the fact that it allows law firms to store documents securely in a protected offline environment so that they can only be viewed by a special request from our proprietary software. An example of how the LegalConference™ vault works would be to imagine going to your bank to withdraw money. The only time the money is accessed is when a bank teller goes to the vault to retrieve your money upon request. The document vault that LegalConference™ uses works on the same principle. The LegalConference™ software accesses documents from the vault like a bank teller retrieving funds from a bank vault. The documents are not accessible to individuals online, unless the administrator gives permission for that document to be accessed in a secure electronic fashion through an online portal. The LegalConference™ document vault system is safer than e-mailing documents or using FTP to access documents; the latter is how many standard online document upload systems work. LegalConference™ is the industry leader in storing online documents securely.
Contact Customer Support
Click on 'Live Help' to talk with us online (8:00am - 5:00pm, CST)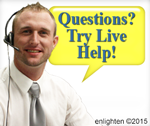 Or email us directly at: help@legalconference.com.
Please feel free to phone our offices between 8:00am - 5:00pm, CST at
1-800-529-5121.