Common Questions & Answers
What controls are there for document sharing and editing?
LegalConference™ provides live document collaboration for clients. This web-based software enables a law firm to collaborate documents with instant edits and notations so that clients, partners, paralegals, and secretaries can view live changes on their computer even if all parties are at different locations. This live document editing will enable both clients and law office staff to review documents before they have same-location, face-to-face meetings or in lieu of face-to-face meetings in the same location. Live editing of legal documents from multiple locations will also give attorneys the freedom to work from anywhere they choose, whether it's the office, home or on the road. In addition, this feature saves attorneys money by eliminating the need to install multiple types of document editing software on every computer they own.
For more details about edit options, see "What edits can I make to a document?"

Contact Customer Support
Click on 'Live Help' to talk with us online (8:00am - 5:00pm, CST)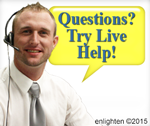 Or email us directly at: help@legalconference.com.
Please feel free to phone our offices between 8:00am - 5:00pm, CST at
1-800-529-5121.