Common Questions & Answers
How do I convert my documents?
Document conversion provides encryption and security of all uploaded documents. LegalConference™ document conversion can be shared on multiple computers regardless of their native operating system; whether individuals are using a PC, Mac, Linux, or other operating system it remains accessible. With document conversion, the document remains uniform, so any web browser can view them. This document conversion allows both client and attorney to see the exact same document at the same time. This conversion is handled by our system automatically when you upload your document.
Contact Customer Support
Click on 'Live Help' to talk with us online (8:00am - 5:00pm, CST)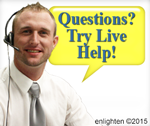 Or email us directly at: help@legalconference.com.
Please feel free to phone our offices between 8:00am - 5:00pm, CST at
1-800-529-5121.