Common Questions & Answers
How many can attend a Webinar session?
Webinar packages come in the following increments:
25 seats at $49.99 for 30 days
50 seats at $59.99 for 30 days
100 seats at $69.99 for 30 days
Contact Customer Support
Click on 'Live Help' to talk with us online (8:00am - 5:00pm, CST)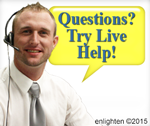 Or email us directly at: help@legalconference.com.
Please feel free to phone our offices between 8:00am - 5:00pm, CST at
1-800-529-5121.