Common Questions & Answers
What does the administration home screen (the Lobby) look like?
Below is a short visual map of what to expect and where to find items once you have logged in.
Points of Interest:
Calendar & Appointments - Allows you to quickly switch between a calendar view or appointment list.
Sort & Search - Sort your folders by name or date or search for a specific term or item.
Navigation - Use these links to: find Help, create a New Folder or New Webinar, access My Account settings, return to the Lobby (while in conference) or Logout.
Activity Report - Allows you to quickly review who has accessed documents. A great tool to track client participation.
Folders - Personalized folders that allow you to organize online documents and client information for specific cases.
Who's Where? - Use this to track who is currently online. A great way to quickly "meet" clients in a conference or chat with them while they are reviewing case material.
LegalConference Storage - Quick reference to help you keep track of your storage space.

Contact Customer Support
Click on 'Live Help' to talk with us online (8:00am - 5:00pm, CST)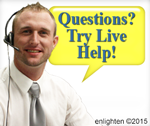 Or email us directly at: help@legalconference.com.
Please feel free to phone our offices between 8:00am - 5:00pm, CST at
1-800-529-5121.