Common Questions & Answers
How do I activate video?
When you enter the conference room click the white arrow on the left to start.
A small window will immediately pop up and ask for access to your camera and microphone. Click allow and these features will be connected for you.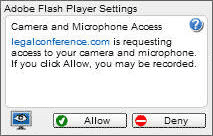 Watch the Help Video:
Adjusting video and audio settings.
Contact Customer Support
Click on 'Live Help' to talk with us online (8:00am - 5:00pm, CST)
Or email us directly at: help@legalconference.com.
Please feel free to phone our offices between 8:00am - 5:00pm, CST at
1-800-529-5121.